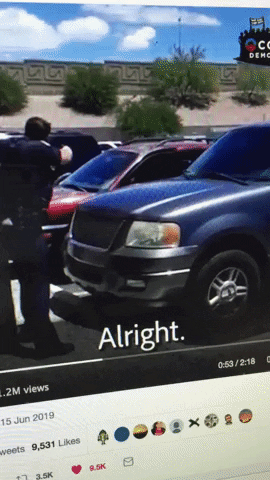 Phoenix police pulling a gun on parents of four years old whom "mistook" toy doll from store in Phoenix, Arizona, it was trauma enough of them and I support them in suing them for ten (10) million dollars. The family is people of color. The officers who pulled a gun on them were the majority of white.
You had seen the video of police officers cursing at civilians, with scary tactics and death threats which is totally unnecessary, but this witness video where a police officer by the name of Officer Christopher Meyer, who is way too white yells, "I'm gonna fucking put a cap right in your fucking head." RIGHT FRONT of their own innocent children.
But the big reason I am writing this because Officer Meyer said to the parents who are very much hearing, "YOU FUCKING DEAF!?" and that is where it draws with line. The point is then why it is OK for police officer to use "DEAF" for? Does it mean that Phoenix police does not have any compassion for Deaf community? Think about Phoenix police's motto: To Ensure the Safety and Security for Each Person in our Community.
Can we ever think about ensure the safety of Deaf people when police officers say, "YOU FUCKING DEAF!?"—Question the safety of police department itself. What I see that is police brutality and mean-spirited statement.
Let's turn our thoughts to the oppression and it strikes me that the professionalism and leadership of police department in Phoenix is ideological more than phenomenal rather than generosity. Its ambition is to weaken or oppress Deaf Culture based on hearing privileges.
"DEAF" is very sensitive topic to Deaf community. The police department in Phoenix, Arizona hurts Deaf community badly even if Deaf community did not realize how much it hurts them more than the society understands.
Should Deaf citizens in Arizona accept the fact that the police department have all the power to practice language hegemony, and why Deaf citizens are not aware that in state of Arizona that police officers are currently using hateful language using "YOU FUCKING DEAF!?" that there are to practiced in gain and loss. Our society judges gain to be good and loss to be bad, but mocking DEAF in language and culture—what do you call this? Where is bias training? Is it a hate speech?
YOU FUCKING DYKE!? YOU FUCKING FAGGOT!? YOU FUCKING CHINK!? YOU FUCKING COON!? YOU FUCKING APE!? YOU FUCKING JAP!? YOU FUCKING SPIC!? YOU FUCKING RETARDED!? YOU FUCKING REDSKIN!?

YOU FUCKING DEAF!?
The media, including this Officer Christopher Meyer, has judged the action of using DEAF in spoken language to be bad and ignorant. The law enforcement was supposed to "protect and respect" instead of intimidation and culture of fear. There are plenty of bias in police departments all over country.
The practice of "hate spew"—YOU FUCKING DEAF!?—is a projection from the professional ignorance of their nature that as long as there is bullying language, and it was shameful of Phoenix Police Department for culture of bullying.
How come Arizona Association of the Deaf (AZAD) did not take action quick enough to recognize the bullying language by police department to mock "YOU FUCKING DEAF!?" in spoken English language that is often known for oppression. Is this a good example of police terrorism?
Why are Deaf people continue to be oppressed that police department know enough to use spoken language by encouraging hateful, explicit, bigoted, violent to suppress and sabotage not only Deaf community, but also the Deaf citizens who seeks the safety and security as each person in Phoenix community, how would Deaf community in Arizona deal with that?
-JT
Copyright © 2019 Jason Tozier
This text may be freely copied in its entirely only, including this copyright message.